Heating will be supplied by an indirect diesel fired heater. The heater is placed outside the marquee and blows clean, hot air through ducting into the marquee. At the other end of the ducting, we attach an aluminium 'side entry floor diffuser'. This style of diffuser fits neatly under the marquee wall and wall lining, distributing the warm air without taking up valuable floor space within the marquee. This allows the hot air to be blown into the marquee discretely at ground level. Then at head height we place a thermostic, which is set at a comfortable temperature.

So what actually happens is that the heater heats the marquee up to the desired temperature, then when it reaches this the heater cuts out automatically. As the marquee temperature drops naturally, the thermostat tells the heater to kick back in again to re-heat the marquee and the cycle begins again.

A thermostatic control ensures your guests are comfortable whatever the weather. Noise levels from these heaters are minimal.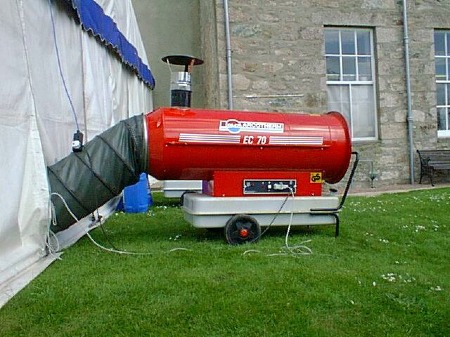 Home About us 3D Planning Marquee hire equipment Coverage Area FAQ Marquee Gallery Pricelist News Jobs Contact Terms and Conditions Links