Our marquees are of modular design and have an elegant classical profile that will complement all settings. They are clean and white with the flexibility to fit into many sites, where many other marquees may not, due to their advanced lightweight and durable frames.

They can be adapted in size to fit almost all sites. In courtyards, onto adjoining buildings and can even be lifted into sites where assembly may be difficult. This allows the incorporation of elements of the surroundings within the marquee itself. For example, water features, garden sculptures, balustrades, walls or patios, flowerbeds, bushes or small trees.

Part of the beauty of having a marquee is being able to enjoy the surroundings whilst having protection from the weather. That is why we stock a large quantity of windows and clear sides, not only to let in as much natural light as possible, but also to allow you to take advantage of the setting and admire the views of the garden, local landscape or architecture whilst in the marquee.

Should the weather be glorious, the marquees' simple design allows for sides to be removed or folded back in sections quickly and easily, so you can enjoy the marquee more as a cover, than an enclosure. Alternatively, should the temperature drop we use the latest in high-tech heating systems, which are thermostatically activated allowing you to enjoy your marquee regardless of the weather, any time of the year.

Due to the lightweight nature of our frames no heavy machinery is needed in assembly or dismantling of our marquees.

Our marquees come in standard widths - 3m, 6m or 9m, but because of there clever design you can add sections on to create any length you require.

| | |
| --- | --- |
| | |
| Examples of a 3m, 6m and 9m wide marquee | |
As the design of each of the 3m, 6m, and 9m marquee is very similar, you can add sections together to create a useful, bespoke structure. For example, below we have used a 3m marquee as a walkway, a 6m marquee as the bar area and a 9m marquee for the main event space.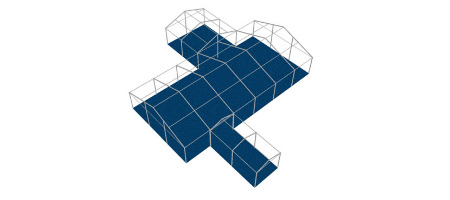 Home About us 3D Planning Marquee hire equipment Coverage Area FAQ Marquee Gallery Pricelist News Jobs Contact Terms and Conditions Links


Bouncy Castle and inflatable hire from our sister company www.Bounce4fun.co.uk