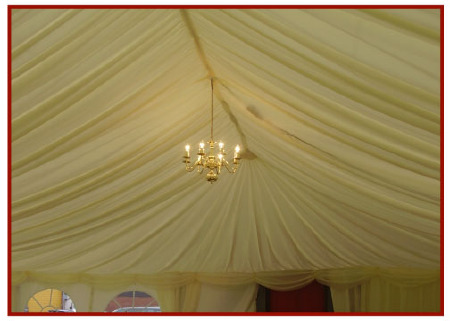 We supply overhead lighting using candelabras with dimmers - 6 branch candelabras giving off 480 watts per candelabra. These provide a good, clean overhead light.

We also offer uplighters, these are placed around the borders of the marquee. Uplighters give a 100 watt wash of diffused light onto both side walls and roof linings. This type of lighting helps to create a relaxed party atmosphere.

A further option is to have our 500 Watt Parcans with coloured gels and down-lighters or pin-spots. This distinctive style of lighting combines with the ivory lining to produce a memorable effect.

We also have outside spotlights and festoon lighting, and are always interested in fulfilling different lighting requirements as the need arises.

Home About us 3D Planning Marquee hire equipment Coverage Area FAQ Marquee Gallery Pricelist News Jobs Contact Terms and Conditions Links