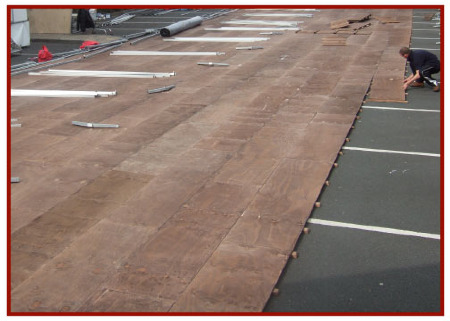 For the best flooring available we supply an inter-locking wooden floor system which produces a firm flat surface for your event. This is strongly recommended where the marquee is to be erected on a rough or uneven surface, or if the ground has a tendency to get waterlogged. We would also recommended a boarded floor if you plan to have an event on a hard surface. Without a wooden floor, the carpet can be incredible hard to fix to the hard surface i.e. a patio area, car park or driveway.

All the wooden sections lock together, so individual pieces cannot become separated.
Hardwood flooring can then be covered with either carpet or matting

You can still have your favourite plants, shrubs or water features with a boarded floor. We just build around it!

Home About us 3D Planning Marquee hire equipment Coverage Area FAQ Marquee Gallery Pricelist News Jobs Contact Terms and Conditions Links