Several styles of tables are available, depending on clients' personal choice and the type of function:

Wooden round tables

3' round tables - Usually used as a cake display table.
4' round tables - Suitable for the smaller marquee sizes. They seat between 6 and 8 guests.
5' round tables - Our standard table and suitable for most occasions. They seat 8 comfortably.
5' 6' round tables - If you want to seat 10 comfortably, then the 5ft 6' is the table for your event.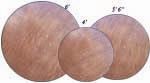 Wooden rectangular trestle tables

6' trestle tables - Usually used in a top table format or as catering tables.
We also offer aluminium tables and chairs as well as aluminium stools and matching high tables.

Home About us 3D Planning Marquee hire equipment Coverage Area FAQ Marquee Gallery Pricelist News Jobs Contact Terms and Conditions Links