As no event is ever the same, we believe in treating your event as individual and personal as it should be treated. Which is why we provide every client with an individual and personalised 2D and 3D layout of your event.

As well as providing you with a 3D plan of the marquee structure, the layout will also incorporate all the features you expect at your event, for example the tables, chairs, dance floor, stage, doors, windows and walls in the right place. We can also add in plants, people, balloons etc.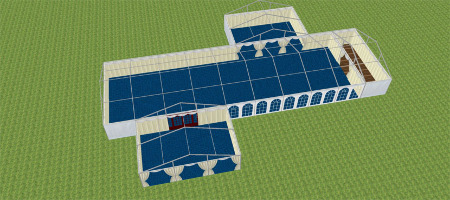 First we design the structure to include windows, doors and walls. We can then include a reception area, bar area and catering area where necessary.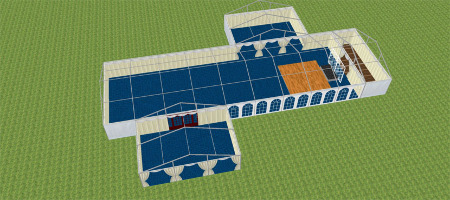 We can then add in a dance floor and stage.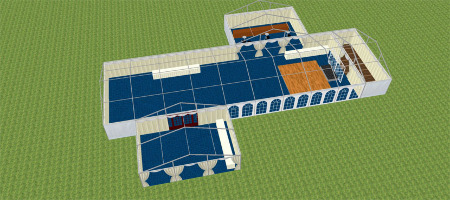 We can then add in a bar, bar furniture, top table and trestle catering tables.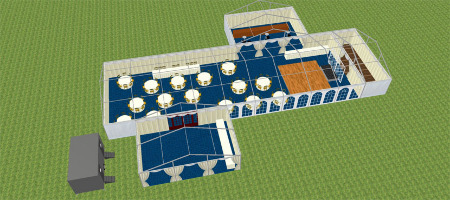 We can then add in either 4', 5', 5' 6'' or 6' round tables, any number of chairs per tables along with any colour seat pads. We can also add in any portable toilets where necessary.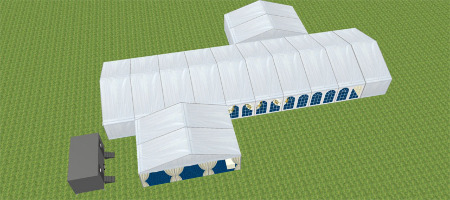 The finished marquee from an aerial view.

Your layout is designed using CAD software so you can view your marquee from just about every angle. So if you want to see what it will look like from a birds eye view, or from outside the reception area, or what your top table will be like, or where the dance floor will be....the possibilities are endless.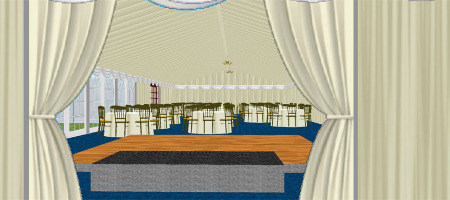 When you are happy with the overall concept. We can supply you with views from just about any position. For example, to the left is how the caterer may see the main marquee form the catering area.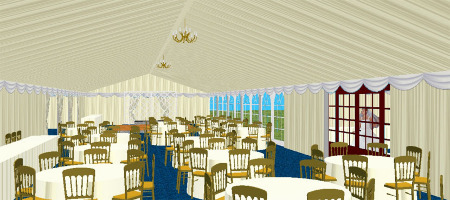 ...Or the view from the far end of the marquee.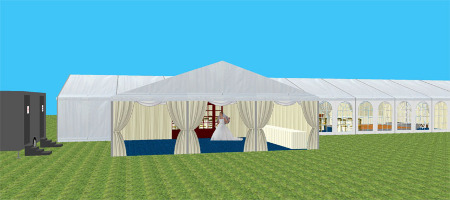 ...Or the view as you approach the reception area.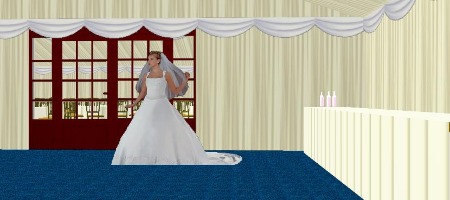 And finally...where would a wedding marquee be without the bride!

The 3D layout will help you to visualise the space and give you a better idea of where the equipment will be located inside and outside the marquee. For example, where the dance floor will go, where the top table will be located etc

Another big advantage of a 3D plan is that you can easily see at a glance where each of your guests will be seated, who they will be sitting next to and where each table is in relation to the top table, bar area, stage etc.

We are happy to draw up these plans for free after a 'no obligation' site visit. We believe the more planning that takes place at this stage the better your event and the happier you will be.

Below is an example of how our marquee compares to the 3D plans.

Click here to see further examples of 3D planning

Home About us 3D Planning Marquee hire equipment Coverage Area FAQ Marquee Gallery Pricelist News Jobs Contact Terms and Conditions Links